Custom Web Design Services That Deliver the

WOW Factor
An Award-Winning & Results-Oriented Website Design Company Since 1997.
Ready for a best-in-class, custom website design that focuses on user experience (UX), conversion goals, and a true content strategy? 
Why custom built websites outperform templates and website builders. 
Custom website design (as opposed to using a pre-built template or a DIY drag and drop website builder) allows our team to create unique styles, graphics, content, backgrounds, animations, call to actions, visual elements and functionality designed exclusively for your brand and user experience.
One of the biggest benefits of true custom website design is the ability to tailor the design to your specific business needs and goals. With a template, you are limited to the pre-designed layouts and features, which most likely will not align with your business objectives.
See details about our custom web design options and services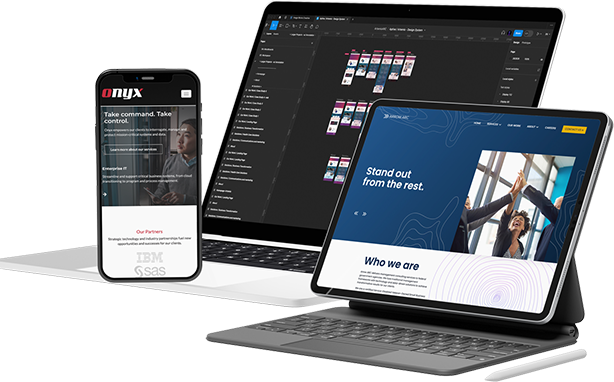 The ImageWorks custom web design process:
1
Plan the Strategy
We talk about your goals, research your competitors, plan content direction and development, and so much more. You can't build anything successfully with out a well thought out plan.
2
Establish the Brand
Define a tone and design aesthetic unique to your business and brand.
3
Build Your Sitemap
Plan and style all of your website's interior pages.
4
Build Your Custom CMS
Our web design agency works with the world's leading content management systems: Drupal website design and WordPress. We customize themes and build functionality that provides the backbone of your online experience.
5
Design Your Homepage
We make your website's first impression and user experience is a great one.
6
Add Subpages
Choose custom or standard depending on your needs and budget. See details below.
7
Add a Blog (optional)
Empower your website with a publishing engine designed to boost organic search performance and captivate your audience.
8
Custom Web Development & Third Party Integrations
Add a gallery, a password-protected employee portal, e-commerce capabilities, custom databases, and anything your business needs to grow.
9
Test & Launch
When everything is ready, we deploy your website to the world wide web, checking that it functions beautifully across the leading browsers and devices.
10
Evolve with Continual UX Optimization
There is always room for improvement. We review live site data and actual user behavior to continually enhance your website experience and conversion rates.