Social Media Marketing Plans
How much does Social Media Marketing Cost? 
This is the first thing we get asked, so we will address it first. If you spend anytime googling "social media marketing prices" you will see the costs range from a few hundred a month to several thousand per month. The more platforms you engage with, the more the cost increases. Using generic, automated, or an offshore virtual assistant for content is cheaper, but has no voice, nor strategy, and does not usually connect well with your audience nor helps to focus on achieving and measuring goals. You will need to start with a strategy - see below. 
We help your company develop a voice, provide you with award-winning social strategies, and strategically align your audience's actions with the objectives you want to accomplish.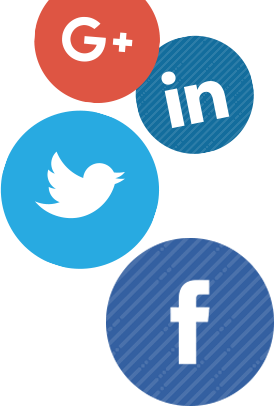 Discovery and Planning For Your Social Media Marketing Campaigns: 
Our tool analyzes your digital footprint and allows us to create shareable content such as relevant industry news, articles, videos, as well as re-purpose your blog and website content. This is extremely important as most visitors do not visit every page of your website, and this will keep them coming back and engaged. Details: 
Strategy & Consulting
Educate your company on how to use social media to achieve desired company objective. Choose the best social platforms for your industry and budget. Train designated employee to use planned campaigns and cut costs (optional, as needed). Plan monthly content schedule. 
Automate
Introduce social media automation tools to save you money and precious time. Apps like Zapier, Hootsuite, Buffer, and more can make the process much more fluid. 
Profile Optimization
Ensure your social medias profiles are claimed and optimized.
Audit
Identify the content and channels that resonate with your brand.
Measurement
Report & measure social media KPIs that matter for your business.
Monitor & Listen
Monitor online conversations about your brand or brand-relevant content.
Management
Save time by having experts manage your social media feeds.
Starting from $1,000  
Types of Social Media Campaigns: 
Digital Ads for chosen Social Media Platforms. $500 per platform for ad design and copy, plus a reasonable monthly cost to manage ads, modify, adjust bids, and report, as well as online review of account actions. Best places for social ads: 

Facebook. The #1 by far social media advertising platform, which allows very advanced audience targeting. This is good for both B2B and B2C. Facebook also own Instagram. 
LinkedIn. This is best for B2B. They are working on the advertising platform, and it gets better every year. Worth a try for most businesses. Make sure to track your ROI. 
Pinterest. Great for B2C and has very good audience targeting and the ads don't feel spammy as they appear more as ideas or suggestions during a related look up. 
Yelp. Great for retail. Almost a must-have as it increases all kinds of Yelp visibility.
 

Social Postings. We will create and schedule original and shared content to engage with followers on up to 3 of your top social media sites - choose from Google My Business, Facebook, LinkedIn, Instagram, and Pinterest. Each week we will share in-depth reports covering changes in follower count, engagement type (comments & likes), what time posts are performing the best, and what type of content is peaking the most interest. Choose from:
 

12 Posts per month
24 Posts per month
36 Posts per month

Posting details:

This 50/50 plan is 50% Shared Content and 50% original through creation or as provided to ImageWorks (percentages can be adjusted). All posts on Facebook and Instagram will also be included in profile stories. Google My Business posts expire in 7 days and will be more SEO focused.  We will plan new posts on a weekly basis and schedule them upon approval via the Later app. Posts include:

Original Content* (Photos, Videos, PDFs, SlideShows (Google Slides) Infographics, Whitepapers, Success Stories, Products, Articles, Promotions).
Story posts. 
Content sharing from relevant industry content.
Sharing your website and blog content. 

*Original Content will be either provided or created. Post totals are per media type. Here is some pricing to help you plan your social media marketing budget: 

Infographics from $900 each
Original Articles/Blogs from $400 each
Vidoes/Explainer Videos from $2,500
Google Slides Presentation from $1,500
Whitepapers and Success Stories. Call to discuss. Sometimes these just need editing. 
Ref: https://blog.oneupapp.io/how-often-to-post-on-google-my-business/