Inbound Marketing Services
Search Engine Optimization (SEO)
We start by planning your SEO content strategy and matching it to keywords most likely to drive in relevant traffic using our suite of top rated SEO tools.
Managed "White Hat" White hat SEO is the body of approved search engine optimization tactics designed to increase a website's position on a search engine results page (SERP). Search engine results that appear as a result of approved methods, rather than payment or trickery, are referred to as organic search results. Ongoing SEO
Most popular, as most site traffic is focused on the top 5 pages. 5 Core Pages (25 total Keywords).
$1,200/month
for 12 months. Renewable at the same rate.
Additional Pages (5 Keywords per page)
Larger websites need more keywords to cover their offerings. You can scale to size and customize your plan accordingly.
$200/month
per page added
Ongoing SEO Worked On Every Month
It is important to realize in the era of "bots", hackers, spiders, etc. that all websites will have and continue to get errors that need to be handled . Even a slight change in Google Algorithm can affect your overall rankings. We use our own SEO formula for ongoing optimization that keeps in mind Google's best white tactics.
Ongoing Keyword Optimization & SEO Monitoring for Enrolled Pages.
Basic Citation Building & Optimization. (Via the 4 largest Data Aggregators)
Site Audits & Site Health Optimization
Continued Technical SEO
Optimize Google Business Profile & Google Search Console
Build out your Google SEO Stack
Ongoing Keyword Optimization & SEO Monitoring for Enrolled Pages
Technical SEO Optimization
Optimize Images for SEO
Create Internal Linking Structures
Online Account & Access to Our Back-End Software: ImageWorks Insights.
Google Meet Reviews with our team (on request) up to once per month!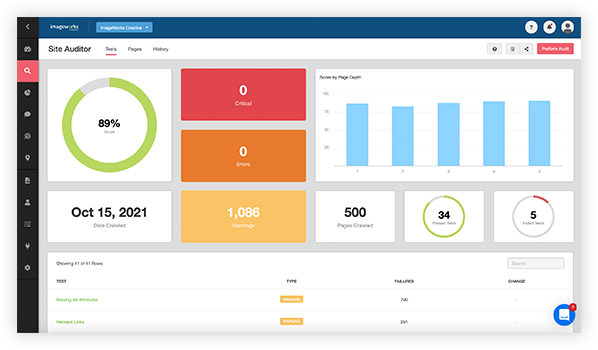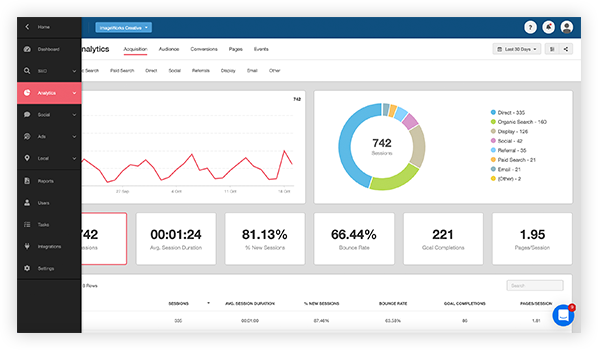 Citation Building & Boosting Plan
A local citation is any online mention of the name, address, and phone number of a local business. Citations can occur on local business directories, on websites and apps, and on social platforms. Citations help Internet users to discover businesses and can also impact search engine rankings. Our plan assures you are on the most popular citation sites and also that the listings are continually optimized for SEO value.
Specialty Niche & Branded Citation Building
& Boostering

Just for your business type, area and Brand this adds more laser focused links to your site and increases your chances of ranking. The booster lets us build mini private hubs to greatly increase exposure and relevance. 

$500/month
Link Building Plans
Fully Managed Monthly Link Building

Our managed link building service  goes beyond direct targeting. We include deep link building in every campaign to create a complex link network, designed to capture more organic traffic and longtail search opportunities.

$1,500/month
for local rankings.

$4,500/month
for national rankings.

High Referring Domain (RD) Links

(All domains are ranked from below 1 up to 10). High RD link building brings more powerful results, because more referring domains generally equates to higher authority, trust, and quality. Once you purchase the high referring domain backlink, it's yours forever.

$650/month
for 5 Links per month.

Custom "Signals" Link Building

By reverse-engineering your top-ranking competitor's backlinks and brand mentions, our custom signals team finds the relevant sites and link-building opportunities that propel sustained SERP rankings and increased performance.

$500/month
5 hours per month. Report provided.

Affordable PBN Linking & Map Embeds.
(Private Blog Network)

When you place an order for private links our team goes to work creating a relevant article based on the information you submit using the link info form. Each article is structured for best SEO practices including H tags and LSI keywords.

$300/month
for a 12 month term. 5 Links per month.

High Quality Guest Posting

Drive real results for clients with our quality guest posts. These are premium guest posts on authentic sites,You'll never get a low-quality link. Every guest post is published on a site with at least 1,000 monthly visitors and 50 referring domains.

$475/month
2 Guest Posts per month.
Google Business Profile Marketing
For Google Business Profile (GBP), our plans consist of optimizing and promoting your platform for one location and creating a posting strategy. These are location based marketing.
Here is what is included:
Initial setup and/or optimization of existing or new GBP accounts. There is a lot to do for proper setup in order to gain and maintain a high GBP score. This includes company overview, services, Google stack entities, photos, scheduling tools, messaging tools, review tool integration, posting schedule, relevant keywords, and adding to our tracking tool.
Post strategy. We will work with you to create a posting strategy that includes simple posts, events, specials, shares, articles, images, updates, etc. For fluidity, we do this in advance. Choose from weekly, bi-monthly, or monthly posts.
Ongoing optimization. GEOtag photos, add links to posts, photos and other content when needed. Google constantly changes this platform, so your profile needs frequent updates.
Local SEO Audit and Strategy Planning
Niche and Local Signal Creation
Brand Foundation Creation
GMB Listing Optimization
Local Video Optimization
Stacked Signal Creation
Brand & Signal Boosting
Live reporting via our ImageWorks Insights tool.
From $675 per month pending post frequency.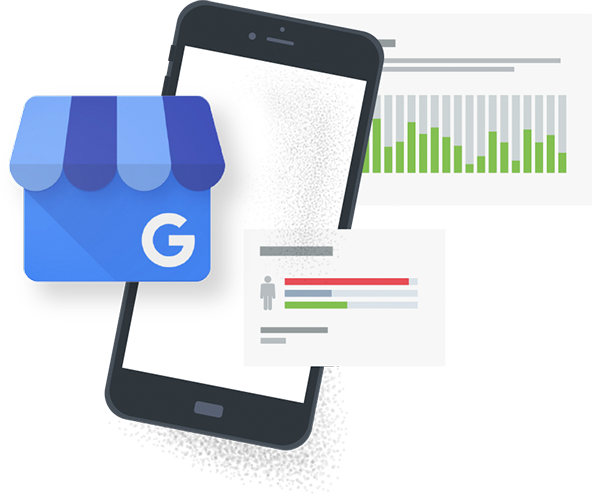 Sample of How Local GBP Optimization and Posting Can Achieve: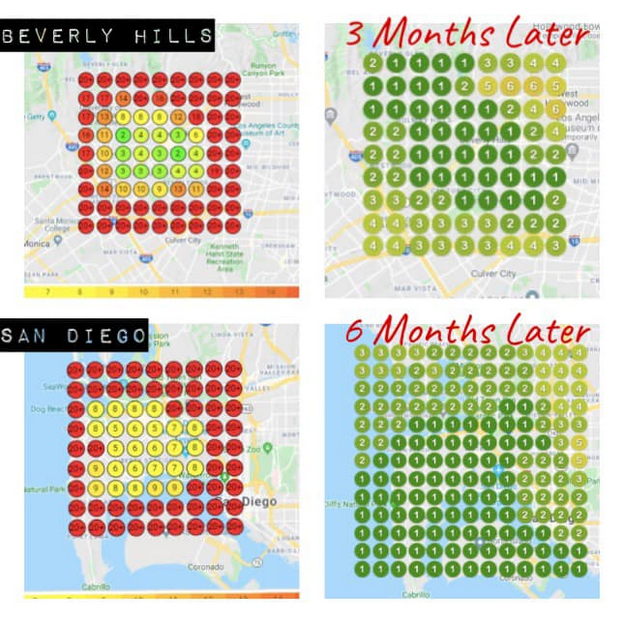 Facebook Page Optimization & Posting Plan
If you're looking to specifically target Facebook, you may be interested in our Facebook content sharing plan. In this plan, our team will set up or revise and post to 1 Facebook page for your business by:
Designing Facebook Page Visuals. If you don't have a Social Media Platform Design & Optimization Plan (see above), our creative team will create a Facebook Profile Picture and Cover photo to match your brand style and create a consistent look.
Strategy, Set Up & Optimization. We will update your page's information to be fully optimized for the latest Facebook build, including call to actions, a user name, settings, audience definition, content mix, FB groups recommendations, and goal setting.
Providing access to ImageWorks Insights. Insights is our 24/7 web & marketing tool that will allow you to track your Facebook following and engagement as well as any other platform you allow us access to, such as Google Analytics.
Creating A Post Schedule. Creating a schedule works best if you also have a blogging plan. For fluidity, we'll plan everything in advance.
| Starter | Mid-Level | Pro |
| --- | --- | --- |
| Initial page setup & optimization | Initial page setup & optimization | Initial page setup & optimization |
| Live reporting via ImageWorks Insights | Live reporting via ImageWorks Insights | Live reporting via ImageWorks Insights |
| 1 post per week | 2-3 posts per week | 4-7 posts per week |
| Strategy update every 6 months | Strategy update every 4 months | Strategy update every 3 months |
| $300/month | $500/month | $850/month |
Press Releases
The threshold here is (and always has been): newsworthiness. What's new or exciting for your business? That's relatively easy to do when you have good creative minds behind your efforts! We help our clients think of topics and headlines that not only grab attention, but also help build the credibility of your organization.
Press release Writing with Premium News Placement and AP wire + Google News exposure:
Blogging & Blog Marketing Plans
A blog packed with helpful and influential content is a requirement for any serious business. A smart and intelligently-designed blog not only nurtures prospects on their journey to customers, but it also boosts Google rankings, relevant traffic, and online relevance.
Consider:
Websites with blogs have 97% more inbound links than those that don't. (SEO value!)
Businesses with blogs receive 67% more leads than those who do not.
Companies who blog receive 97% more links to their website.
By prioritizing blogging efforts, marketers are 13x more likely to see positive ROI. *Fundera 2019
Blog Writing & Marketing Plans
ImageWorks has blogging plans customized specifically for your business. Our writers have experience in just about every industry. Our plans are topic-focused. First, we help you find a topic that is both interesting, helpful, timely, and likely to attract traffic. Once topics are chosen, we get to work writing the blogs and scheduling them for release. We take care of everything!
​Optimized Provided Blog Article

For SEO and Wordsmithing. Add images and tagging.

$175/month

Blog Writing

1 article per month.

$500/month

Blog Writing

2 articles per month.

$900/month

Share Blog Posts on Social Media

Up to 3 social accounts and/or 4x per week.

$40/post

Email Blast of New Blog

With teaser and image.

$100/email