RESPONSIVE WEB DESIGN SERVICES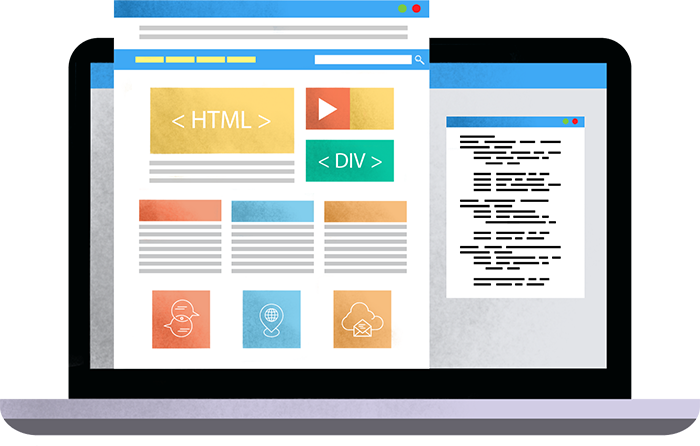 Your website is the digital "story" of your brand.
How will customers respond? Most will take one of two paths.
They'll notice you, like what they see, become interested and take an action. OR
They'll mutter "meh" and move on. After all, if your website is not engaging nor communicates value, why should they do business with you?
Nearly 97% of your customers will come to your website before, during, or after their first contact with your brand.
ImageWorks is a Full Service Web Design, Development & Marketing Agency. Our Services Include:
Responsive web design built on our Drupal or WordPress CMS platorms: Your website, your content is custom designed, pixel by pixel, around your brand. We start with a discovery meeting to truly get to know you, and then define your story, strategy, and tactics to accomplish your goals. Each space, graphic, feature, button, illustration, and call-to-action is designed to accommodate your exact message, brand story, and overall user experience (UX).
For smaller budgets we have a template product where "areas" are pre-designed, as content areas are also pre-sized (but can be altered slightly).The good news is the design in these areas can still be custom designed for your brand and message. When your budgets tight, this is a excellent way to start. 
E-commerce Websites: We have several options, from pre-built carts like WooCommerce, to the fully customizable enterprise level, Drupal Commerce. Call us to discuss options and pricing.
Customer/Employee Portals: We have built a feature-rich backend portal that can be customized to do just about anything you need.
Why choose Imageworks for your website design project?
We offer both of the most robust and popular Content Management Systems (CMS): Drupal and WordPress. Our designs are mobile first and fully responsive. 
Each project features art direction, designers, developers, writers, and other marketing experts working together to assure you the best possible results.
We work with you to create a plan for your website and conversion goals. Then we help measure its effectiveness through and evolve your web experience with our marketing platform: Insights.
We are an award -winning full-service web design, branding & marketing  agency.  We have served the DC metro and Northern Virginia market for 23 years strong! 
As many as half of all surveyed respondents say a website's design is their number one criterion for determining the credibility of a company.

Web Site Cost & Budgeting.
Our award-winning web design agency offers both hourly and fixed prices for our services, depending on the type and the scope of the project. We use a collaborative team approach, featuring art direction, experts in marketing, design, UX and branding. The result is a better brand experience, and more customers.
All websites are different. A landing page or microsite can be done a lot faster than a full custom website, where each page is crafted for the best user experience possible. Adding in things like blogs, forms, backends, portals, and web apps (which make modern sites so fluid and functional) add time, too.
When we learn about your exact requirements, we can give you an exact quote. We are happy to work within your budget, assuming the budget is realistic for what you are trying to accomplish.