B2B Search Engine Optimization (SEO) Services & Plans
First it's important to understand….
What Is the Difference Between Local SEO and National SEO? 
The biggest difference between local and national SEO is how the search results work. If Google identifies your query as an attempt to find a type of business entity, it will pull up a GBP MAP listing.
If it does not, it will pull up the SERP (Search Engine Results Page) ranking based on your keyword phrase, and you most likely will be competing with a national audience.
If your search query triggers Google Bot that you are looking for a type of business and it recognizes the business, it will pull up the following information, in this order:
Google Ads or Google Local Service Ads;

Google Business Profile (GBP) map listings; and

And wayyyyyyy down the page, it will list some organic web page listings.
For example, the term "software company" will deliver Google map listings of LOCAL businesses. See video
However, if you type in "cloud hosting & migration services," your results will be the top national ranking webpages for that query.
Longer tail keyword phrases are much more likely both to rank high and convert, as they much more accurately match the users' desired intent.
_______________________________________________________________________________
"National SEO focuses on non-geographical keyword phrases…. Local SEO focuses on local businesses with a location or service area and embeds them as keywords."
Choose Imageworks as your SEO agency to help you grow! Get a free SEO Visibility Report here:
https://www.imageworkscreative.com/website-visibility-report
_______________________________________________________________________________
Some Helpful Data to Consider:
95.88% of Google searches are four words or longer.

More than 45% of all search queries are long-tailed phrases, most of which are question-based or how-to based.

The average Google first page result contains 1,447 words.

Organic search drives more than 10 times more website traffic than does organic social media.

43% of all Google searches are location oriented, and about 50% of mobile searches have local intent.
– *Sources: Highervisbility.com, Neil Patel
National Keywords and B2B SEO Plan!
Fully Managed On-Page SEO Plan With Citation Building
What's Included:
Keep in mind that Google changes its algorithm three to four times a day, so we have to constantly adjust your SEO by implementing:
Extensive keyword research and content strategy planning.

Whole-site meta data optimization.

Technical SEO setup and continued monitoring and optimization.

Homepage on-page SEO optimization.

Citation building (a citation is an online mention of the name, address, and phone number of a local business). Thousands of variants exist, and each is ranked from 1 to 100 by the Google algorithm.

Deep linking via internal link strategy (see below).
Adding Subpages or Interior Pages to your SEO plan
After we've begun all these steps, we will start working on your subpages. Think of your homepage as the "title" of a book and the subpages as the "chapters." Google is much more concerned with your subpages than your homepage; however, despite that, most links are built to the homepage. The "SEO juice" fuels your entire site.
After discovering the number of subpages that have a realistic chance of ranking without building tons of costly links, we will let you know. It's no use trying to get a subpage to rank when it has a 99% chance of failure on the first page.
| | |
| --- | --- |
| Add subpage a la carte | $215 each per month x 12 months |
| Add 5–10 subpages | $200 each per month x 12 months |
| Add 10 or more subpages | $190 each per month x 12 months |
Link Building & Deep Linking
Link building can be expensive. In fact, an average link in the United States costs an average of $400 for a low-tier domain rank (DR) and more than $2,000 per link for a high DR.
High "Referring" Domain Authority Links
"Moz," the standard in domain authority, ranks all domains from 1 through 100. However, a referring domain is the one that has the most backlinks to pass on top of your site, which is what we call a "high-referring domain." All links are from vetted and aged sites and have not been removed. We will provide you with monthly reports upon request. Prices vary, depending on how many you order each month over a 12-month term.
Link Building via Guest Posting
Premium articles (750 words) posted to websites that receive at least 1K to 5K monthly traffic visits, posted manually. Social signals will be added to the live URL, including FB shares / retweets / repins.
SEO Blog Writing
An SEO blog is a blog in which the main intent is to drive relevant traffic to your site. Using some of today's top AI tools, we are able to determine topics that receive both good traffic and have a keyword difficulty level below 40.
This means you will have an excellent chance to rank on the first page. To keep the costs down and the process fluid, you are allowed to request only minor revisions for this service.
Get a quote for SEO Blog Writing
Search Engine Optimization (SEO Explained)
"SEO stands for "search engine optimization." It's defined as: "a set of processes aimed at improving your website's visibility in search engines (such as Google), all with the goal of getting more organic traffic."
Essentially, SEO is about fulfilling users' search needs by creating relevant,
high-quality content and providing the best possible user experience."
– *Semrush (valued partner and top SEO tool )
Your website is crawled and analyzed by Google bots continually. Google changes its algorithm three to five times a day now, and of course, the secret to the algorithm is well guarded.… But we have enough data points (after doing this for 25 years!) to know how to optimize your site properly to grow organic traffic.
Your site should have a theme that captures the essence of the services you provide. Think of your homepage as the Table of Contents of a book and the subpages as chapters, filled with informative details about each service and / or product, thus showing Google that you are relevant. This is how it looks:
How Does Google Rank Your Website? Let's Take a Look!
To provide the most useful information, search algorithms look at many factors and signals, including the wording of your query, the relevance and usability of the pages, the expertise of the sources, and your location and settings. The weight applied to each factor varies depending on the nature of your query.
– Google https://www.google.com/search/howsearchworks/how-search-works/ranking-results/#:~:text=To%20give%20you%20the%20most,the%20nature%20of%20your%20query.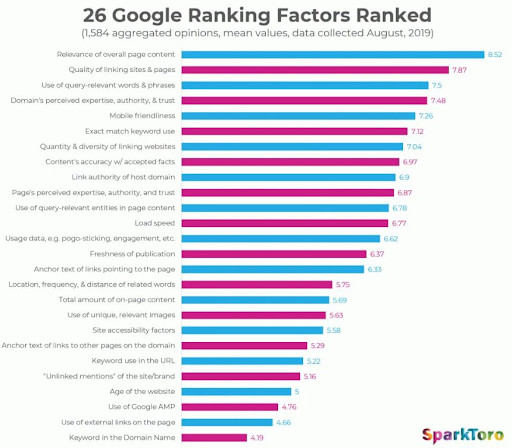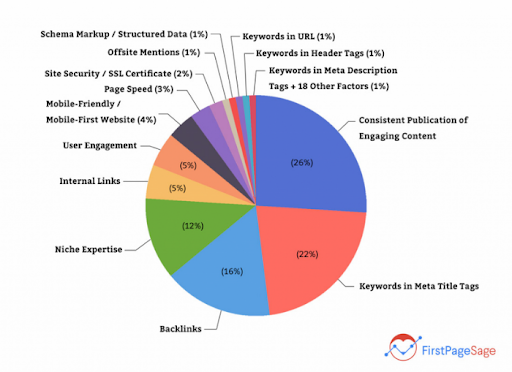 Yikes! This chart demonstrates why you need to hire Imageworks to manage your SEO. We eat this stuff for breakfast! :-) 🥣🍳🍴
What Is "Deep Linking," and Why Do You Need It?
Deep linking is a powerful technique for structuring the links on a website or app to improve the users' experience and search engine rankings. By organizing relevant content and creating connections between pages, deep linking can help visitors find the information that they're looking for quickly, while also improving your website's visibility in search engine results.
How Internal Deep Linking Works on Your Website: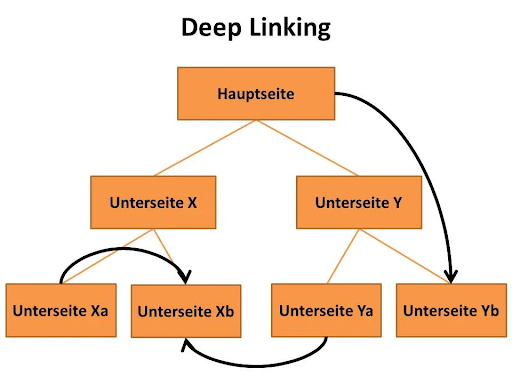 What is Keyword Difficulty? Keyword Difficulty Explained:
Keyword difficulty is the process (using SEO tools like SEMRush) of evaluating the difficulty of ranking for a specific term in Google's organic search results. A keyword's difficulty is based on a number of different factors, including: the domain authority, the page authority, and content quality. The image below shows you how various search terms rank in volume and in keyword difficulty. You want to focus on KWD of less than 50 to have a chance at ranking on page one.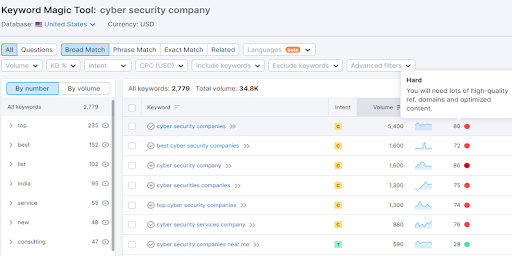 ____________________________________________________________________