Traditional Print Marketing
Posted by ImageWorks Creative Team
June 02, 2022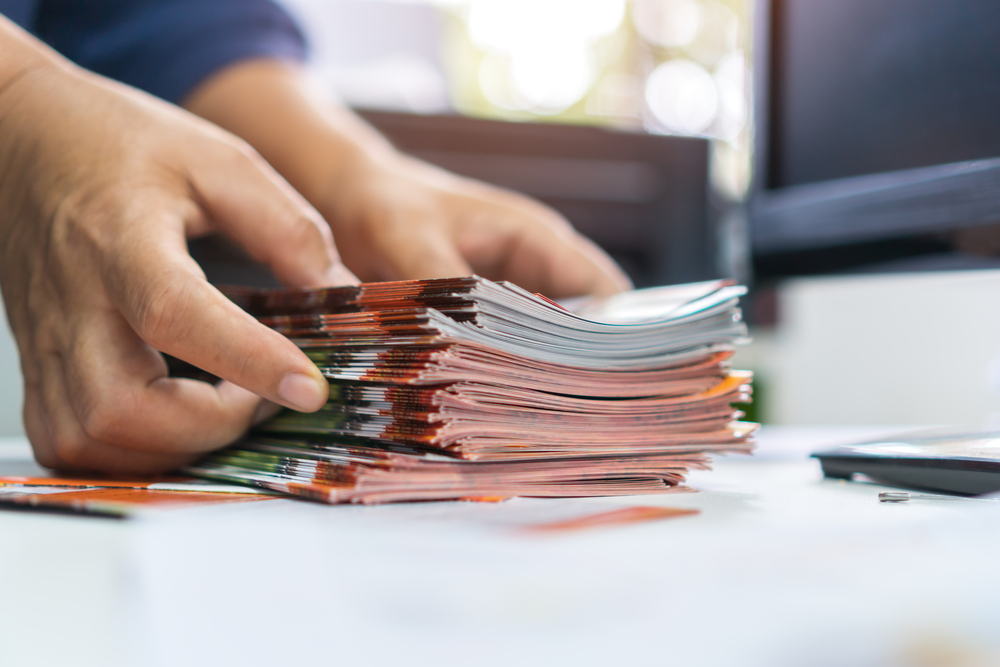 Is Traditional Print Marketing Dead?
Most businesses have fully embraced online marketing in the digital age.  Shouldn't you follow them to where the action is?  Not so fast.  Traditional print marketing is not dead; it's evolving.  It outperforms most digital marketing in many ways, leaving a lasting, personalized impression.  Furthermore, its flexibility can strike potential customers unexpectedly, creating memorable impressions and cementing awareness of your brand, just take a look at our solid client portfolio to see the results.  
Here are the 4 main reasons traditional print marketing is not dead.  
The Personal Touch
Print marketing has a built-in audience.  Reach out to it!  Build loyalty by sending existing customers follow-up materials.  For example, realtors sometimes send cards or small gifts on the anniversary of a home purchase.  They may do this for years afterward, encouraging word-of-mouth marketing and repeat business.  Consumers react to the care and personal touch of a welcome surprise in their mailbox.
You don't need to do all the personalization by hand.  Variable data printing (VDP) alters text, images, and formatting from copy to copy on printed marketing collateral.  This approach is excellent for tailoring campaigns to specific demographics or even individuals.  VDP is a perfect way to use market research data to employ a personal touch to your print media.    
Quick, yet Long-Lasting
An individual unit of print marketing is more expensive than a digital impression.  The happy consequence of a higher price is efficiency.  Limited space means print materials must be quick, concise, and to the point.  A well-designed physical piece of marketing is a masterclass in efficient delivery.
Yet print media leverages permanence to increase engagement.  People focus more intently on objects they can manipulate.  Furthermore, they want to hold on to nice things.  High-quality materials have a habit of sticking around – fancy paper, foils, and die cuts are not frivolous expenditures!  Print marketing collateral has a long shelf-life; it can sit on the counter or travel with a consumer for weeks.  Use coupons, business cards, and invitations to promote awareness and engagement until the consumer uses them, if not longer.
Adaptability
Variable formats allow you to cultivate awareness in many ways.  You can use cards, brochures, banners, and signs to capture the public's attention.  Smaller items make great leave-behind marketing at meetups and events.  On the other hand, more prominent media spread your message by being close to high-traffic areas.  Finally, print collateral encourages your audience to unplug, if only for a moment in the digital age.  Without another digital banner to swipe past, they may focus on a physical item a few valuable seconds longer.
Disrupt the Status Quo
The current digital climate makes direct print marketing unexpected.  Digital overload and wariness about viruses lend credibility to print media.  Furthermore, consumers perceive you are interested in them since you're not staying fully digital to save money.
The intrinsic value of print marketing derives from its ability to start conversations.  A magazine, book, or pamphlet that sits in a client's lobby or on their desk gets people invested in your industry talking.  If the conversation happens between decision-makers, you could reap the benefits.
Evolution of Print Marketing
Traditional print marketing is not dead.  Instead, it can be an integral part of your marketing and branding strategies.  Indeed, you should build a bridge between print and digital.  For example, make your best online content physical, or place QR codes linking to web-based services on business cards and brochures rather than just posting a blog online or online press release distribution.  Traditional print media are a personal, tangible, and adaptable strategy to capture attention and cultivate interest in your business.

Get in touch with the team at ImageWorks Creative today to discuss our Outbound Marketing Services and Mail options.

By Joseph Anthony