In the Thought Bubble: A Look at Our Social Media & Website Revamp
Posted by ImageWorks Creative Team
July 01, 2020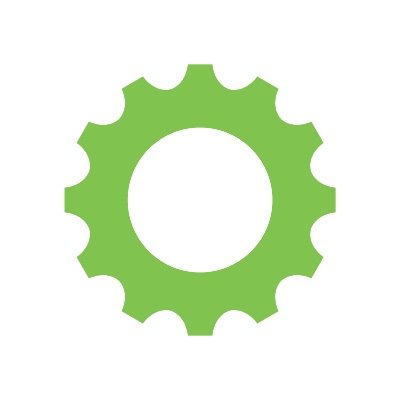 With the impact of COVID-19 slowing down business for everyone, ImageWorks leadership decided early on to take a step back and examine how we could use this time to better develop our business. We revamped how we deliver some of our services, like our web design plans, and, afterwards, realized our digital branding should get an update as well. Enter: a new hero image for our home page and new banner designs for our social media profiles. For this post, We sat down with our designers to discuss their inspirations and insights from working on the project.
How Our Designers Did It
First things first, good design is nice but our designers knew functionality was imperative when it came to updating the website. Because we're a boutique agency, our team understands the importance of design & UX working together.
"From a technical standpoint, it is crucial that no matter how elaborate or complicated your homepage graphics are, they need to be correctly optimized for the web. Through my own research, I commonly come across websites with beautiful imagery that is tarnished by bad preparation (slow loading times, pixelation, buffering videos, etc.). Taking the time to make sure you are displaying your imagery with high quality and a small file size is absolutely crucial, in my opinion," said Senior Graphic Designer, Michael Wayne Stevenson.
Readers of our blog might already know Michael. For those of you that haven't had the pleasure, he leads our design team from his home in Southern California, though plans to join us in DC in the fall. His work for our clients is as varied as they are, but he describes his personal design style as being bold.
"I also think that above all other factors, a homepage graphic should be emotionally persuasive or memorable," Michael continued. "The Internet is often an overwhelming tidal wave of information, colors, videos, gifs, and other elements that can desensitize an audience. Your graphic needs to be strong enough to stand out amongst all the other imagery your visitors may have already seen that day, and the best way to do that is to create a graphic that makes them feel something or pause before they eventually scroll or click away from that screen."
Image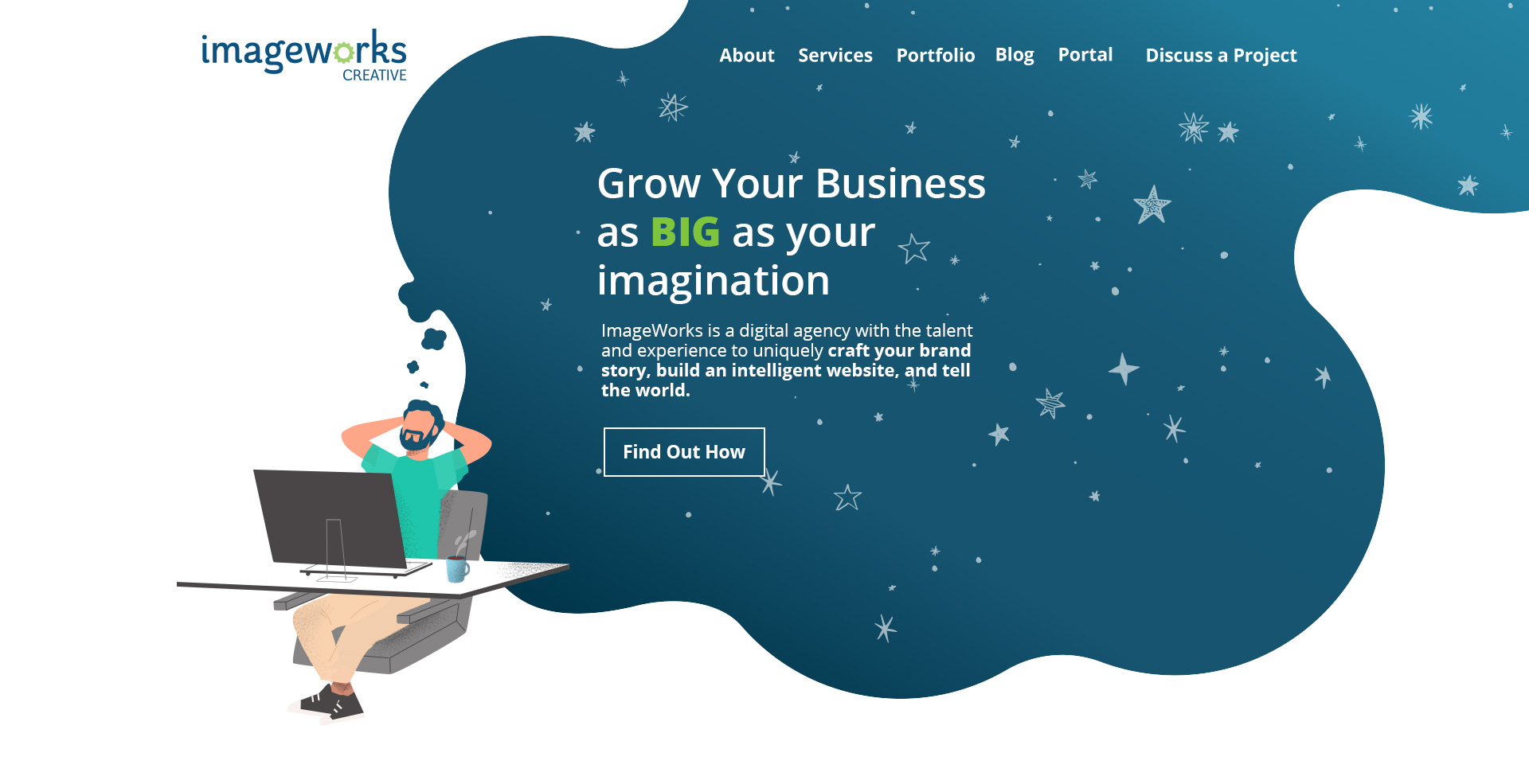 Final hero image design by Michael Wayne Stevenson
"My inspiration for this illustration in particular simply came from the existing 'Grow your business as BIG as your imagination' quote that was already living on our homepage. The word 'imagination' instantly made me think of a daydream scenario. I am constantly leaning back at my desk trying to think of my next moves when it comes to creating a design, so I took that idea and elaborated on it. I went with a very dreamy thought bubble to give the illustration some fluid movement and added the stars to emphasize that the character was 'spacing out' or daydreaming about his next business venture," said Michael.
Meanwhile, we knew our social media profiles also needed updating to match our website's new look and create a consistent brand. Jillian Perdos, our Part-Time Graphic Designer, took inspiration from Michael's daydreamy illustration and set to work creating new banner images. Michael's job of revamping our hero image may have been technically complicated, but Jillian's task of creating several, coordinated designs with different specifications had its own challenges.
"I wanted the banners to all feel connected, yet have their own individuality. This resulted in the differing ways the gradient bubbles sit around the edges as well as the slight color variations, and the texture and star pattern placement. A lot of determining the look of each banner comes from the image requirements as well as the overall profile layout of an individual platform," said Jillian.
Image


Final Twitter banner design by Jillian Perdos.
Jillian graduated from High Point University with a degree in Graphic Design in 2018. She joined ImageWorks after being an intern for K12 Inc. and FleishmanHillard. Where Michael is bold, Jillian's personal style is more minimalist. She loves neutral tones and is partial to san-serif fonts.
"I think my final product was a major improvement on some of the flaws in my first iteration. My first attempt at this design featured too many colors throughout the stars, the thought bubble was far too small to ensure I avoided the navigation bar completely, and, because the thought bubble was connected to the character's head and didn't bleed off the screen, it ended up looking more like a large afro or some other intense hairstyle. Once I added the additional smaller thought bubble shapes and extended the cloud, the composition of this piece really came to life," said Michael.
Image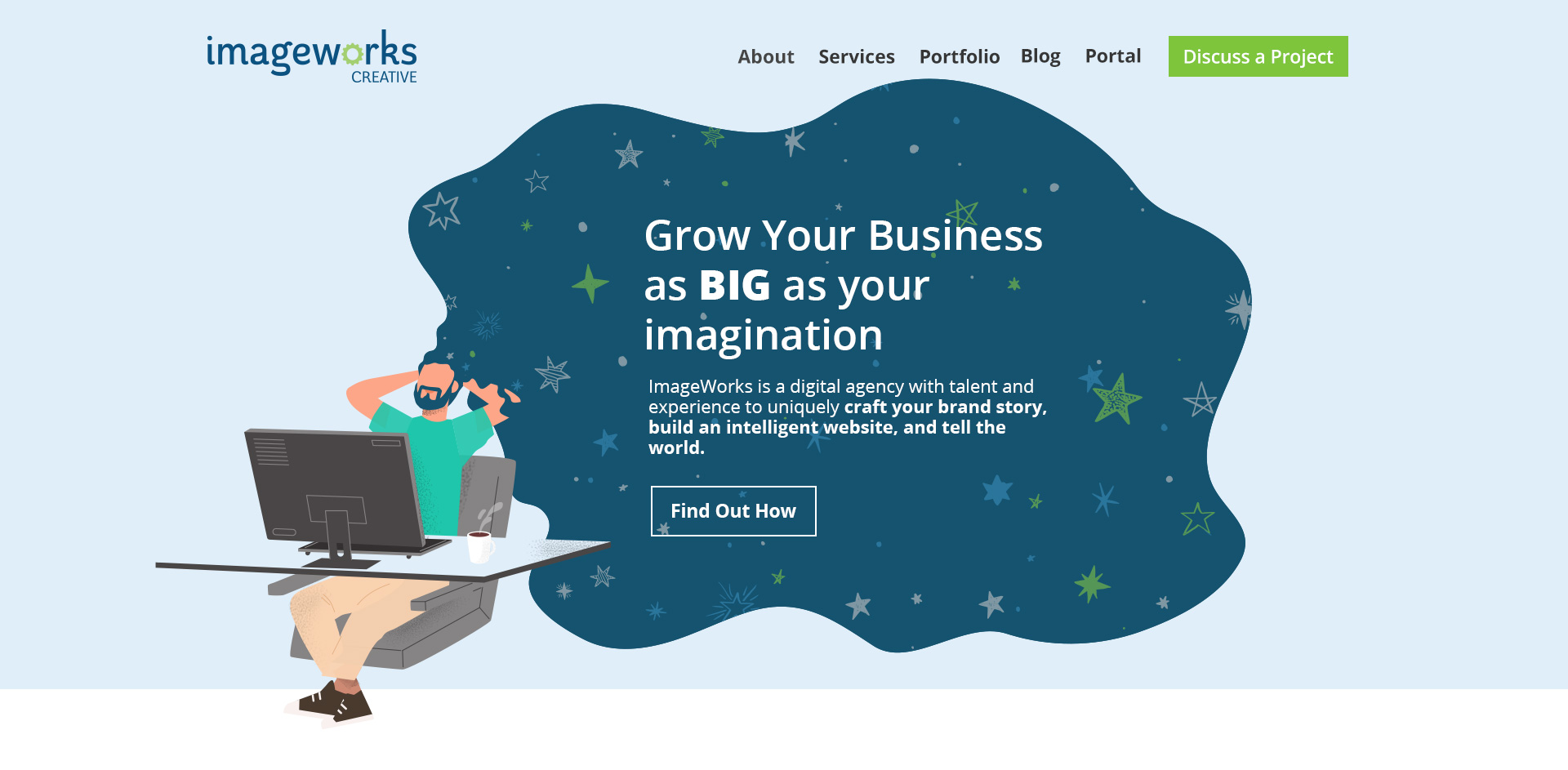 First hero image draft by Michael Wayne Stevenson.
Our social media banners also went through several rounds of revision to get the images just right. With a website, there are multiple pages a visitor can land on to find out who you are. However, in the world of social media, standardized profiles limit your ability to show off.
"It's funny how the first round of designs can look completely different from the end result - and that's exactly how this went. I did like the direction we were headed in the beginning, but the final designs ultimately were where we needed to be as far as keeping brand consistency and alluding to our new homepage look," said Jillian.
We've repeatedly said that your digital presence simply cannot be overlooked in today's media landscape. ImageWorks is fortunate to have designers that are not only talented, but also understand how their designs need to work in order to best serve our clients. Now that we've polished up our 2020 look, we can't wait to help our clients - present and future - to do the same.
By Jordan Latham
-- -- --
We know how social distancing has affected small businesses. To do our part to help, ImageWorks Creative has created our Small Business Stimulus Package. Get ImageWorks Creative's SEO and Marketing insight for free and set your business up for a comeback. Apply before July 31 to see if you qualify.